Doral City Park Pavilion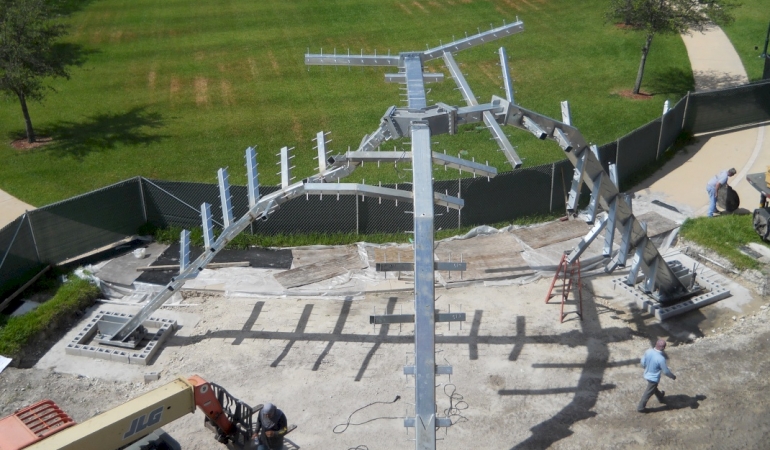 Doral, FL (USA)
Hot-dip galvanizing was chosen for the supporting steel frame of the artistic pavilion structure along with the concrete reinforcing steel as needed to ensure the long term integrity of the overall concrete structure. With the internal supporting elements being hot-dip galvanized, there are no concerns for any future corrosion or maintenance problems.
This project was designed from a small scale wood model with the goal to magnify it into a full scale usable artistic park pavilion structure. The structural steel frame had to be designed and fit into the design model resulting in an intricate functional steel shape needed to structurally support the weight of the solid concrete structure. The need to preserve the structural integrity of the overall structure and most importantly of the structural steel supporting frame, hot-dip galvanizing of this frame was deemed imperative and was incorporated into the final design.
This project is very unique with respect to its artistic value and functionality used to create a modern day monument that creates interest and social interaction with the public. Hot-dip galvanizing was an integral component of its success.
Details
---
Year Galvanized
2013
Sectors
Artistic Recreation & Entertainment
Environment
Tropical Marine
Location
Doral, FL (USA)
Reasons for Galvanizing
Coating Durability, Corrosion Performance, Life-Cycle Cost, Quality of HDG, Sustainability
Components Galvanized
Internal structure steel supporting frame (Raw Steel 20.24Tons/Galv. 22 tons) Concrete reinforcing steel-rebar (Raw steel 9.34Tons/ Galv 10.15 tons)
Tonnage/Size
Steel: 29.58
HDG: 29.58
Team Members
---
Project Members
Fabricator
Advanced Structural Concepts – Rick Caspanello
Other
Valmont Miami Galvanizing – Scott Kratky
Member Galvanizer(s)
Valmont Coatings – Miami Galvanizing
---
Boca Chica Bridge
This bridge is a 4-span, 2-lane structure servicing southbound traffic on US 1 near Key West, FL. The first span from the south end of the bridge uses galvanized reinforcing steel in the bridge deck. The decks are simple spans supported by prestressed concrete girders. The bridge is only a few feet from the surface of the seawater.
This bridge provides a vital transportation link from mainland Florida to the Florida Keys. While other key bridges on US 1 have been removed and replaced due to severe corrosion, this structure has been in place since 1972. Some of the other replacement bridges, on which galvanized reinforcing steel was not used, are now showing signs of corrosion . This structure, however, has remained corrosion-free since 1972. The chloride levels that have been measured at the galvanized bar surface are 2.5-5 times the level that would begin the corrosion process on uncoated reinforcing steel, and the galvanizing is continuing to do an excellent job of protecting the reinforcing steel.
Details
---
Year Galvanized
1972
Sectors
Bridge & Highway
Environment
Tropical Marine
Location
Key West, FL (USA)
Reasons for Galvanizing
Coating Durability