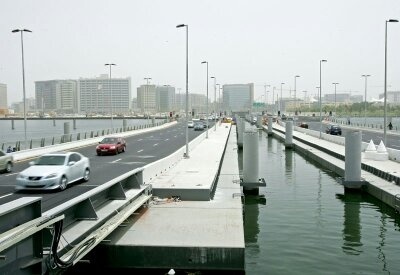 The Dh115 m Al Maktoun Floating Bridge spans the Dubai Creek and was opened in July 2007, some 300 days after construction commenced.  The overall bridge is 360 m long with three lanes of traffic in both directions. Its capacity is 3,000 vehicles in each direction in both the morning and afternoon peak periods.
The bridge was built to a very tight schedule so as to temporarily alleviate increasing traffic congestion on other fixed bridges across Dubai Creek one of which, the Maktoum Bridge, carries 150,000 vehicles per day.
The floating base of the bridge is made up of 104 hollow pontoons. The pontoons, each 6 m wide by 20 m long, are hollow concrete blocks cast around a solid polystyrene core.
Galvanized steel bar and welded mesh was used to throughout the pontoon structure to reinforce the concrete supporting frame. The concrete surround is about 200 mm thick and the bottom face of the pontoons is sealed with the Nukote coating system and primer.